Podcasts
ABOUT:
It Depends covers modern-day legal issues being debated and discussed in both our community and law school. The title is inspired by the common answer given in law school classes. If you have any recommendations for topics, guests, or general comments for the show please email us at soitdepends@gmail.com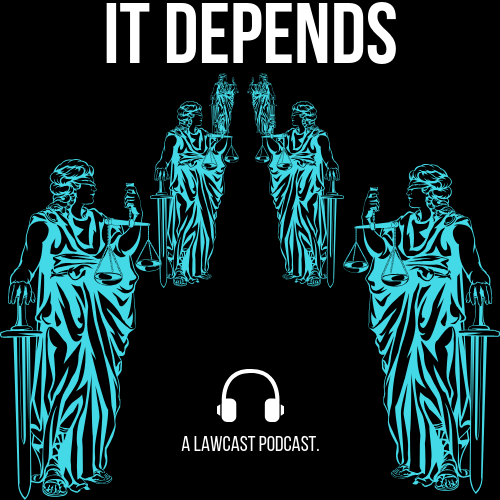 It Depends-Season 2 Premier-Episode 1
The Executive and the 14th Amendment-Professor Joshua Kastenberg
During the final week of October, the President stated that he can and will eliminate birthright citizenship via executive order. This statement has raised serious concerns within communities of mixed immigration status and has constitutional experts weighing in. In this episode, we sit down with Professor Joshua Kastenberg to share his opinion on the legality of this proposed executive order as well as what brought him into law. 
It Depends: The New Mexico Law Review Podcast Episode 3
UNM Journal Panel with the NRJ, TLJ, and the NMLR
The New Mexico Law Review sits down with the Editors and Co-Editors in Chief of the Natural Resources Journal, Tribal Law Journal, and the New Mexico Law Review to discuss journal life in law school as well as how the journals reach out to the community.
It Depends: The New Mexico Law Review Podcast Episode 2
War Stories: with Luis G. Stelzner
In a new segment called "War Stories," Luis G. Stelzner gives an emotional account of two of his favorite cases during his time as a litigator and a mediator.
Mr. Stelzner is a recipient of the the New Mexico Law School's Distinguished Achievement Award. Mr. Stelzner has been a prosecutor, civil litigator, and mediator throughout his career, as well as a faculty member of the UNM School of Law.
It Depends: The New Mexico Law Review Podcast Episode 1 
The Definitive Professor Kevin Washburn Interview
Prior to entering academia, he was a federal prosecutor in New Mexico, serving in the Violent Crimes Section of the U.S. Attorney's Office. He was a trial attorney with the U.S. Justice Department and later served as general counsel of the National Indian Gaming Commission, an independent federal regulatory agency in Washington, D.C.
At Yale Law School, he served as editor-in-chief of the Yale Journal on Regulation. Following law school, he clerked for Judge William C. Canby Jr. of the U.S. Court of Appeals for the Ninth Circuit. He then joined the Honors Program at the U.S. Department of Justice in Washington, D.C.
Washburn began his legal education at UNM as a student at the American Indian Law Center's Pre-law Summer Institute and later he taught at UNM as an adjunct professor, during his time as a federal prosecutor.